Who is playing at Wizard?
The latest acts to join us will be listed on this page .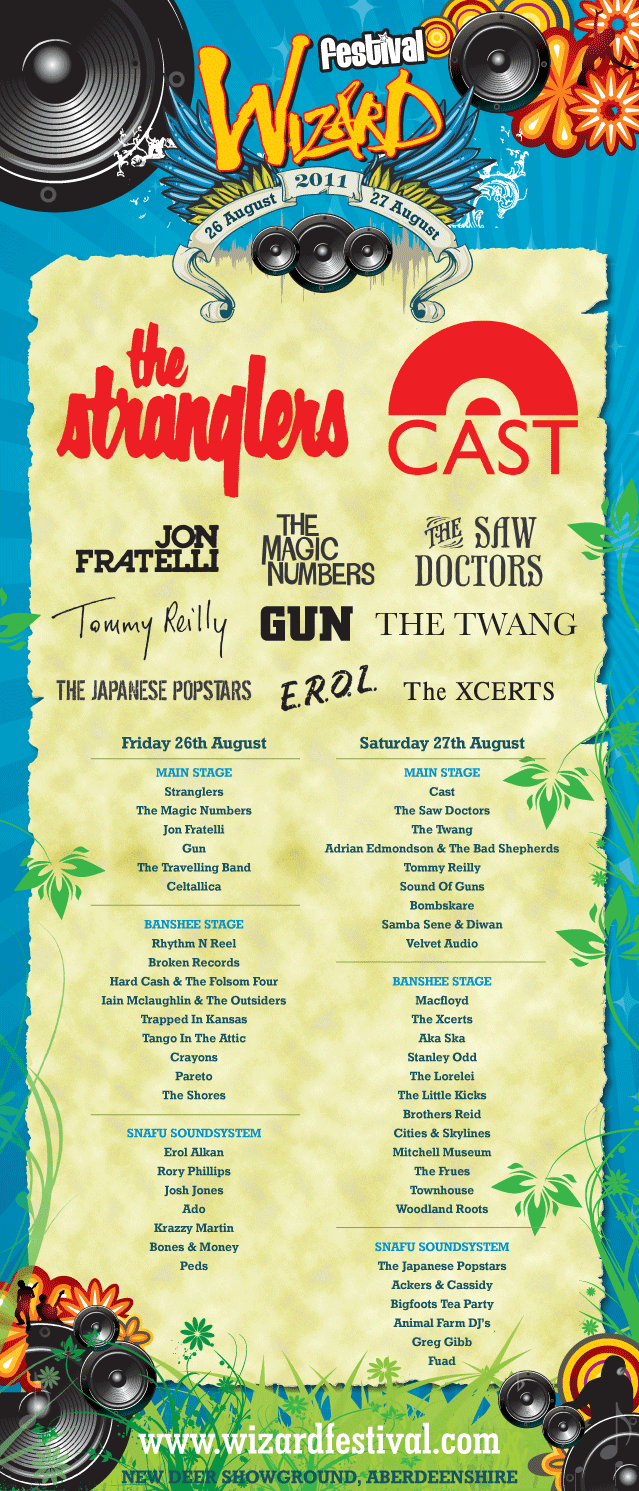 Friday Headliner - The Stranglers

The Stranglers have had 23 UK top 40 singles and 17 UK top 40 albums to date in a career spanning five decades.

The Stranglers are the longest-surviving and most "continuously successful" band to have originated in the UK punk scene of the mid to late 1970s.

Saturday Headliner - Cast

Indie super-group CAST will be headlining Wizard as part of their fifteenth anniversary tour of the renowned album 'All change'. 

This groundbreaking album was one of the fastest selling albums of all time released on the Polydor label, outselling the likes of The Who and Jimi Hendrix.

The Magic Numbers

Two pairs of siblings, led by the prodigiously talented lead singer and songwriter Romeo, who make a beautiful sound emphasised by angelic three-part harmonies. The vocal mix brings to mind the music of sixties harmony groups, but there are influences from all over the place flawlessly combined. With a great set of original songs, this band are busy mapping out a timeless musical territory of their own. 'in Romeo they have a writer with an ear for arrangement and composition not witnessed since Brian Wilson'- Artrocker.

The Saw Doctors

Classic electric folk rock from Tuam with a good Irish sense of humour thrown in. Catch these guys live, and you'll understand why they have taken most of the world by storm.

With 18 top 30 singles this band are legendary for their live festival performances and promise to bring a fabulous Celtic rock and roll show to this year's event.

Jon Fratelli

One of Scotland's most prolific and talented songwriters, Jon Fratelli first came to fame as frontman of The Fratellis, a trio of unruly Glaswegians whose 2006 debut album Costello Music, featuring the monster hits Chelsea Dagger, Henrietta and Creepin Up The Backstairs, sold over a million copies and earned the band a BRIT award. In early 2009 The Fratellis decided to take a break. Now pursuing a solo career, Jon is back in 2011 with his debut album, which signals a return to the raw rock'n'roll sound that was his first love.

The Twang

Birmingham based indie group declared by the NME as 'the next big thing'. Sounding like a cross between The Stone Roses and The Streets, The Twang are rock'n'roll at its best. 'Swaggering, big hearted rock'n'roll mischief...' - NME.

Erol Alkan

Winner of Muzik Magazine's Best Breakthrough DJ with high profile residencies at Bugged Out!, The Boutique and 21st Century Body Rockers. The only DJ besides John Peel to have the crowd at Fabric chant his name after his set.

Adrian Edmondson & The Bad Shepherds

The Bad Shepherds is the exciting new collaboration conceived by comedian Adrian Edmondson. The Bad Shepherds revisit punk era classics and add arrangements inspired by traditional music. Expect to her folked up versions of hits by The Sex Pistols, The Clash, The Stranglers, The Jam, Sham 69, The Undertones, The Buzzcocks, The Ramones, The Specials, Talking Heads, Squeeze, etc.

Gun

Probably best known for their cover of Word Up!, originally by Cameo. Forming in Glasgow, Scotland in the mid 1980's, GUN brought an excitingly fresh brand of rock n roll swagger drawing inspiration from Prince, Sly & The Family Stone & Blondie as much as Zeppelin, Ac/Dc , Thin Lizzy & Motorhead. The current line-up is Giuliano 'Jools' Gizzi (guitar), Dante Gizzi (vocals), Paul McManus (drums) and Derek Brown (bass guitar).

Tommy Reilly

Winner of the Orange Unsigned Act 2008, young Scottish singer-songwriter Tommy Reilly not only wowed the judges with his musical talents, but also won over the audience as one of the most genuinely likeable characters to emerge from the contest.

The Travelling Band

Folk and country band who won the 2008 Glastonbury New Talent contest.

Sound Of Guns

A band from Liverpool doing a distinctly atypically Scouse take on rocknroll. No scallydelic Coralisms here. A melodic undercurrent purrs along amongst the anthemic Killers-like songs, but thrusting guitars are never far away.

Jim Gellatly

Jim Gellatly well known Scottish DJ and champion of new music is back as compere for 2011. He will be the official voice of the main stage and also announce acts on the festival's second stage. Jim is the 'John Peel' of Scotland's new music scene.

The Japanese Popstars

The Japanese Popstars have carved out an enviable reputation in the last few years, rivalling the biggest names in dance as the must-see live act with a coruscating show of foot-stomping, speaker smashing dance music that will blow you away.

Broken Records

Broken Records are a six piece band based in Edinburgh, Scotland. Formed in early 2006 as an antidote to work, they have gigged continuously since then, seeing several members come and go from the fold. It is in this vein that Broken Records started, as a loose amalgam of musicians who would play under one banner when not doing their own work.

The Xcerts

Searing Scottish indie band making heavy soul-fuelled rock influenced by the likes of The Smiths and The Clash. With a punky, psychedelic feel to their music, The Xcerts sound is both truly original and consistently passionate. Fervent live shows and arena-sized tunes make this band ones to watch out for.

Hard Cash & the Folsom Four

Making a welcome return to Wizard are Hard Cash and the Folsom Four who will present their tribute to the legendary Johnny Cash.

Bombskare

Edinburgh's 10 man ska juggernaut, causing widespread dancing and structural damage since the turn of the century. Long awaited album 'A Fistful Of Dynamite' released February 2009.

Rhythm n Reel

A seven-piece Celtic/rock band based in the Highlands of Scotland for over a decade. The band's set-list is Celtic rock- based (usually with a contemporary rock twist), including their own arrangements of traditional Scottish tunes led by pipes, fiddle and accordion.

.

Macfloyd

Mac Floyd play classic tracks, covering what is simply the best of Pink Floyd from 1973'sThe Dark Side Of The Moon, through to 1994's The Division Bell albums.

The set list will also include the anthems 'wish you were here', 'comfortably numb', plus some of the more obscure material from the psychedelic years.

.

Iain McLaughlin & the Outsiders

aka-SKA

aka-SKA is an Aberdeen-based nine-piece ska band, one of the most authentic ska and 2-Tone tribute acts in the country. They play a selection of hit songs from the greatest ska revival artists such as The Specials, Madness, The Selecter, Bad Manners, as well as delivering up a few surprising hits performed in a ska style.

Cities and Skylines

Cities and Skylines are a barnstorming prospect in the live environment; quickly signed up by Ignite Records UK whilst cutting their teeth on the Glasgow circuit, the band blend melodic vocals and heavy guitars with every bit as much precision and power as their contemporaries Biffy Clyro and Twin Atlantic.

The Lorelei

"The Lorelei have managed to create a new musical genre – Total Thrash Speed Folk.
It's a wild and energetic sound with savage guitars mixed with acoustic instrumentation"
Rock'n'Reel Magazine Issue19




Mitchell Museum

Poppy indie-alt outfit with influences ranging from the Flaming Lips and Radiohead to They Might Be Giants.

The Little Kicks

The Little Kicks are currently concentrating on putting the finishing touches to their second album. The new album will follow their well received debut "Boxing Clever" and will be out in the Autumn. Recently the band previewed the new record at a packed out hometown Lemon Tree show and the first single from the record "Call of Youth" has been receiving regular airplay on both BBC Radio 1 and BBC 6 Music.

The Frues

Four guys originally from the far reaches of the UK now make up Inverness band The Frues;  with their sharp mix of folk, rock and blues (hence the term frues), they are quickly building a solid fan base in the north of Scotland and beyond.

Crayons

Crayons have been scribbling their colourful soundwaves across Scotland for the past couple of years. Having proved a massive success at both goNORTH and T In The Park already this year, the young four-piece are one of the most exciting emerging bands in Scotland.


.

Pareto

Glasgow-based noise-pop quartet Pareto have enjoyed an excellent 2011, picking up an impressive level of airplay and a series of support slots with the likes of General Fiasco, Attack Attack and Flood Of Red. With recent offering Paint Them Silver gaining an impressive response across the board and no shortage of praise for their charged live performances.

Tango in the Attic

Formed in 2008 at Edinburgh University; Tango In The Attic fuse their varied influences beautifully to add a new and colourful sound to the Scottish music scene. Using a variety of instrumentation including guitars, vintage organs, saxophones and heaps of random percussion, they continually conjure up energetic and engaging live performances.

Celtallica

Celtallica are bringing rock and roll to the world of Celtic Music. The band is cutting edge and guaranteed to have you toe tapping and hand clapping.

Townhouse

Edinburgh based acoustic outfit Townhouse proved a real highlight at recent industry showcase goNORTH. A core of the Edinburgh music scene, the trio have carved out their own unique space for folk-influenced acoustic soul & pop.

Velvet Audio

Velvet Audio are 3 piece Indie/alt group who have received support from Vic Galloway on BBC Radio1 Introducing, they are soon to release their debut album.

Trapped in Kansas

Trapped in Kansas formed in 2008 and have been on an exciting journey ever since. This multi-national 4-piece have become one of the most talked about and critically praised bands of the past couple of years in Scotland, creating mathematically intricate music that is both thought provoking and sonically magni­ficent.

Brothers Reid

An exciting new 5-piece folk/blues/bluegrass band from the North-East of Scotland. Based in rural Aberdeenshire the group take influence from their natural surroundings, blending a 70's bluesy tone with modern and traditional folk, creating an organic and original sound.

Stanley Odd

Purveyors of a unique blend of hip hop, funk, electronica and anything else that takes their fancy, Stanley Odd's live show is fast becoming renowned for infectious grooves, social commentary and above all else music to make you move.

The Shores

The Shores are an upbeat indie rock 4-piece from the North East of Scotland. The band have already been featured on NME Breakthrough's video of the week with their track 'Liar'. Musical influences include Arctic Monkeys, The View, The Strokes, The Wombats, Rage Against The Machine, Led Zeppelin and Foals.

Samba Sene & Diwan

Charismatic Senegalese singer Samba Sene's music is an exuberant fusion of Senegalese traditional rhythms and grooves, with undercurrents of ska, funk and rock. His influences include former mentor Baaba Maal, Bob Marley, Van Morrison, Paul Simon, Alpha Blondy and Aswad. The songs cover a range of subjects from homelessness, equal rights to outright celebration. Uplifting and upbeat, this is world music with a Senegalese heart & soul.
Ticket Sales
You can buy your tickets from our official outlets as well as online from our approved ticket sales partners.