Got a question about the festival?
See if you can find the answer below.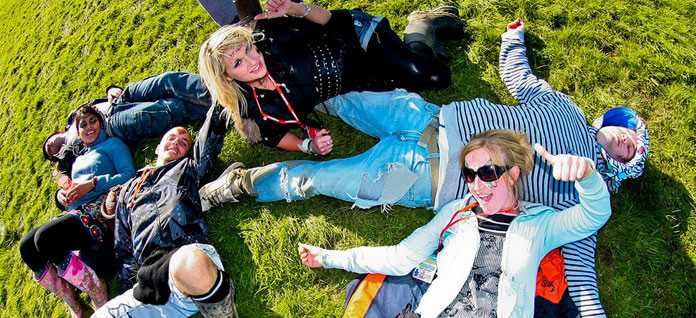 ---
Tickets
Where can I buy my Wizard Festival ticket?
Information about buying tickets is available on our tickets page and includes a list of official ticket outlets.
When will I receive my ticket?
If you buy tickets via official outlets, they are issued over the counter. If you are buying online, tickets will be posted out no later than 48 hours prior to the event. When you receive your ticket make sure you keep it in a safe place.
Is there a maximum number of tickets I can buy?
No, you can purchase as many tickets as you like!
Can I buy a ticket for the Saturday only?
Yes. Saturday only tickets are available this year this ticket also allows you to camp on the Saturday.
What is your policy on children at the event?
Wizard is a family friendly festival where children are most welcome however, some restrictions apply. Children under 16 years must be accompanied by a responsible adult or guardian over 21 years of age.
There is a maximum ratio of three under 16's to one adult.
Do children need tickets for the festival?
Anyone aged 13 or over requires a full price ticket. Proof of age will be required.
Are there any age restrictions?
Due to licensing laws, proof of age will be required by gate staff for any persons under 18.
Can I cancel or refund my tickets?
Tickets cannot be returned nor any refund given after purchase unless the event is cancelled or rescheduled.
What happens if I lose my ticket?
You will not gain access to Wizard without an official ticket. KEEP YOUR TICKET SAFE, TREAT AS IF IT WERE CASH.
---
Do I need a ticket for camping?
Your festival ticket includes camping. Once you exchange your ticket for a wrist band, this will allow you in to the campsite as well as the main festival arena. There will be no access to the campsite without a wristband.
What facilities will be available to campers?
A fully stocked co-op campsite shop, running water, toilets and 24hr security!
How early can I get in to the campsite to set up?
You can get in to the campsite from 10am on the Friday 26 August.
Campers must vacate by 12 noon on Sunday 28 August.
Is there a limit to the size of tent I can bring?
No, but space is limited so please consider other festival goers before you start pitching a marquee!
Can I sleep in my car/van?
No, festival goers cannot sleep in vehicles except camper vans and caravans (see below).
Can I bring a Campervan or Caravan?
Yes, however there are no electric hook up facilities available for caravans or campervans, tickets can be purchased at £ per pitch from Ticketmaster
Can I park my car next to my tent?
No. In order to create a safe camping area, vehicles are not permitted to park next to tents. Car parking areas will be situated as conveniently as possible to camping areas.
Is there somewhere to park my car if I am not camping?
Yes. Day parking will be available.
Will there be food stalls at the festival?
Yes. There will be a wide range of food stalls within the main arena which are open until midnight.
---
What time will the main festival arena be open?
Friday: 2pm – Midnight
Saturday: 12 noon - Midnight
What clothing should I bring?
Scotland is blessed with unpredictable weather. You can quite literally witness four seasons in one day here.
Although we have the sunshine on order, it is advisable to pack for all weather conditions. You can never be too prepared.
So, waterproofs, warm jacket, fleece, wellies, sun block, flip flops, shorts and t-shirt, hat, gloves and sledge are all good.
Are there cash machines at the Festival?
There will be no cash machines at the festival, the closest cash machine is in the village of New Deer.
Will there be food stalls within the event arena?
Wizard Festival will provide a huge range of delicious choices from all across our beautiful land. There will be a wide variety of cuisine on offer, all available from carefully selected traders selling traditional Scottish products, locally sourced foods, organic and fair trade produce. Just because you're at a festival doesn't mean you have to eat festival food, we want you to enjoy the best that Scotland has to offer.
Can we bring alcohol on to the campsite?
You can't bring alcohol into the main arena, however if you're camping onsite you can bring alcohol into the camping areas but NO glass. There is a bar in the main arena. We ask you to consider the environment with anything you bring. Please do not bring glass onto the campsite… and most importantly PLEASE DON'T DROP LITTER use bins provided!
Should I bring food with me?
You can bring food with you to the campsite; however you cannot bring food into the main area.
Can I bring a dog or other pet?
No. Only guide dogs are allowed on the festival grounds.
---
Is Wizard accessible for people with disabilities?
The festival arena will be equipped with disabled toilets and a disabled car parking area close to the arena.
Will there be a disabled viewing area?
There will be a specific viewing area for people with disabilities.
Ticket Sales
You can buy your tickets from our official outlets as well as online from our approved ticket sales partners.
The Line-Up!
The 2011 line-up will have something for everyone no matter their taste in music.
Find out which acts are performing this year by clicking here